Adler Theatre | Davenport, Iowa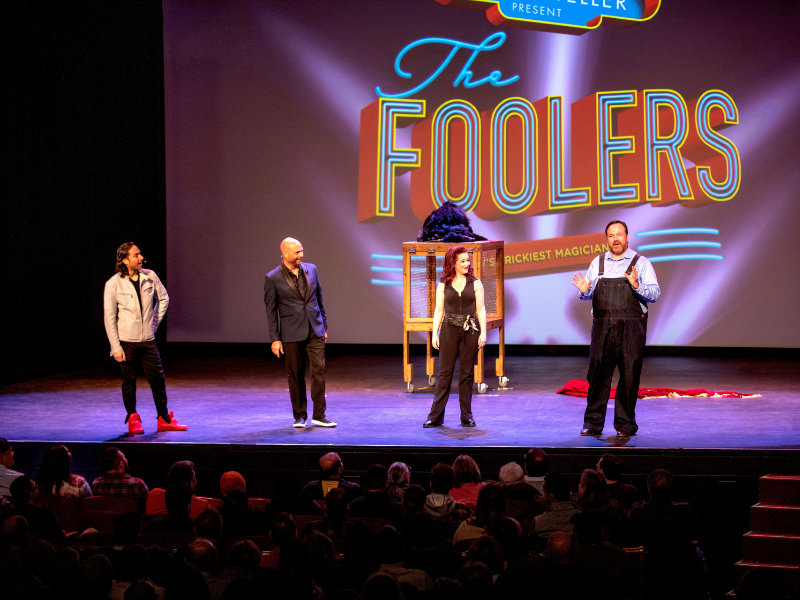 Are you ready for the most insane illusions on the planet!?!? Of course you are, 'cause legendary magicians Penn and Teller are sending the hottest entertainers in the game to captivate you for the live show dubbed "The Foolers." You can expect to witness some truly breathtaking, edge-of-your seat magic tricks and mind-bending illusions that will leave you questioning reality. The tour will feature Alex Ramon, Matt Donnelly, Vinny Grosoo, and Jessica Jane as they start the trek on September 15th at the Pullo Family Performing Arts Center in York, PA, and close out on October 15th at the Capitol Center for the Arts in Concord, NH. Arguably the best show to attend will be this one at the Adler Theatre on Friday, September 29, 2023, and we've got tickets for sale right here and now!!! All you've gotta do is click the "GET TICKETS" button, so what are you waiting for?
Magical masters Penn & Teller's ability to produce some of the most outer-dimensional magic tricks and illusions is legendary. They've carved a very nice piece of the pie in their niche thanks to the combination of mind boggling tricks mixed with a dose of hilarious comedy. Not only that, they're a favorite every time they perform and have their very own headline acts in Vegas. Now they bring forth their years of experience in the form of four outstanding individuals who will go out and stun crowds in a live show called "The Foolers."
Matt Donnelly, a.k.a. "The Mind Noodler, is a one-of-a-kind figure, and his talents have seen his audiences laugh out loud with mind-altering magic and storytelling. The Las Vegas Journal called him "Las Vegas's Best Up and Coming Comedy Magician." His show, "The Mind Noodler," has become a hit and has been featured at "The House of Cards in Nashville," "The Magic Cast in LA," The Second Bell Comdey Festival, and the Chicago Magic Lounge.
Millions of people have seen him on popular series like "Masters of Illusion," "America's Got Talent," and of course "Penn & Teller: Fool Us," where he managed to fool them twice. Vinny Grosso's mastery lies in live performances, and that's what makes him a fantastic addition to this quartet. He has spent his entire life in pursuit of achieving the ultimate trick, and you can be sure he will wow you every single time.
Jessica Jane is an out-of-this-world performer, and with over 10,000 appearances, she is certainly no stranger to the stage. She has a powerful stage presence and can be found performing magic, doing daredevil types of things, as well as sleight-of-hand tricks. She has also guest starred on "Prince of Peoria," "Penn & Teller: Fool Us," and Penn & Teller: Try This at Home." She will question your very sense of reality, and you cannot afford to miss her captivating performances.
Finally, we come to Alex Ramon, who has been described as "mystifying" by the NY Times. His show, "Illusion Fusion," was named the number one attraction in Lake Tahoe and has toured across America, wowing audiences with his magnificent tricks. He definitely adds that special sauce.
Together, these four contain probably one of the best sets of skills in magic entertainment, and you have to be there to witness literal magic unfold in front of your eyes. So grab your reservation right here before it's too late.