Adler Theatre | Davenport, Iowa
Mamma Mia! Get ready to go back in time to the 70s and experience the music of the famous Swedish group ABBA through Mania – The ABBA Tribute at Adler Theatre on Thursday, October 19, 2023! MANIA the ABBA Tribute has been paying homage to the Swedish group's music since its inception in 1999 and is considered the world's No. 1 ABBA tribute show! And this year, MANIA the ABBA Tribute is going on tour around North America to perform some of ABBA's greatest hits, such as "Dancing Queen," "Waterloo," and "Gimme Gimme Gimme!" Despite ABBA peaking in popularity in the 70s, their songs have continued to be popular even amongst the newer generations through their jukebox film and musical "Mamma Mia!." MANIA the ABBA Tribute is the perfect event for older people and the newer generation who never got the chance to see ABBA perform live! Experience ABBA's timeless classics performed by their Number one tribute group! Book your tickets now!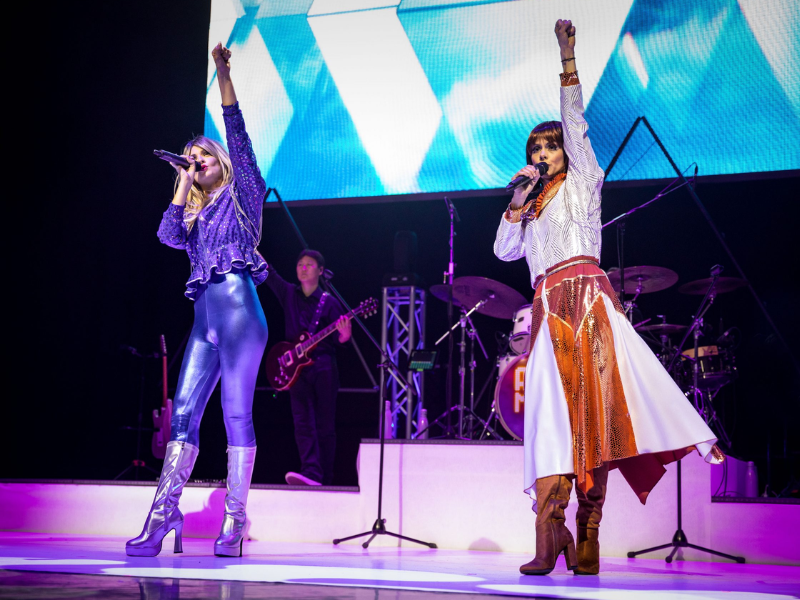 Get ready to dance to ABBA's greatest hits at the MANIA – The ABBA Tribute at Adler Theatre on Thursday, October 19th, 2023!
MANIA The ABBA Tribute, formerly known as ABBA Mania, is a tribute group that started its career in the West End in London but is now based in Las Vegas since 2012. Throughout their career, the tribute group has sold out over three thousand performances globally. The group consists of four well-accomplished performers, each representing one of the ABBA members.
The tribute group currently consists of:
Alison Ward as Agnetha Fältskog
Amy Edwards as Anni-Frid Lyngstad
James Allen as Bjorn
And Jeff Pike as Benny
This set of cast members will surely deliver a show the audience will deem as a performance worthy of being called the Number 1 ABBA touring group in the world! Their tribute show consists of both ABBA's high-energy hits such as "Dancing Queen," "Money, Money, Money," and "Chiquitita." And ABBA's slower songs, such as "Take A Chance on Me" and "The Winner Takes It All."
This event received great reviews from previous audiences, commenting that they "Witnessed another fabulous performance at The Stafford Center, Stafford TX. Two hours of uplifting, dance-inducing and sometimes heart-breaking songs, fully live with fantastic staging, lighting, and effects. The show recreates ABBA's sound not only perfectly, but respectfully too."
This dance-inducing show from MANIA The ABBA Tribute will be stopping by multiple cities across Northern America, and this fall, they are coming to Iowa at the Adler Theatre! The Adler Theatre is an iconic entertainment venue that has hosted countless live performances since 1926. Aside from it being a go-to destination or venue for tours and live performances, the theatre itself is a must-see tourist attraction.
MANIA – The ABBA Tribute is calling young and old audiences from every generation to witness a lively tribute performance and respectful homage to ABBA's timeless hits like no other!
So what are you waiting for? Put on your dancing shoes, bell-bottom pants, or jumpsuit, and dance to the biggest disco pop hits from the 70s and become the "Dancing Queen"! Reserve your tickets now!