Adler Theatre | Davenport, Iowa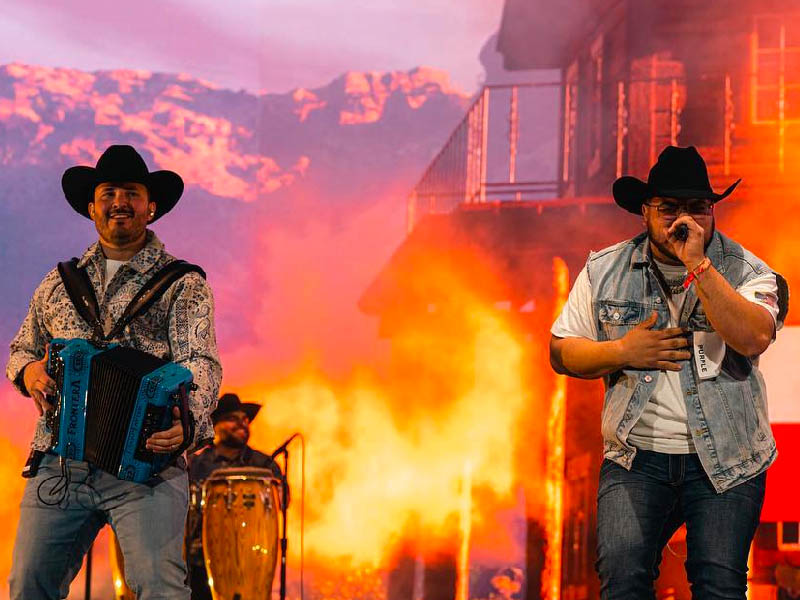 This fall, incredible Norteño will dominate the airwaves in Davenport as the regional Mexican powerhouse Grupo Frontera comes to town! The "Bebe Dame" stars are currently traversing the nation for their El Comienzo Tour, and they're set to hit over 20 major cities! Fortunately for Norteño fans in Iowa, Grupo Frontera will be making the Adler Theatre its home on Saturday, 21st October 2023! Fans can look forward to a plethora of iconic staples, such as "No Seva," "Bebe Dame," "Que Vuelvas," and Unx100to." The band has been going viral across the Spanish-speaking world due to their remarkable talent, overwhelming stage presence, and damn-good songs! So if you're keen on catching one of Latin music's most celebrated bands, you better hurry and score tickets now to see Grupo Frontera conquer the Adler Theatre on Saturday, 21st October 2023! Tickets are now available through the Get Tickets link!
The sensational Grupo Frontera initially went on a mini tour last year to test out the waters. The band was already on its way to becoming one of the most revered Latin music bands in the U.S. The highly-successful brief outing came out with overwhelming results. Last year, Billboard magazine featured Grupo Frontera in their Latin Artist on the Rise. But the band is no longer just a group on the verge of a breakthrough. This year, the band is one of North America's most in-demand Norteño bands. And with the release of the mega-hit, "Un x100to" with Latin superstar Bad Bunny, there is no telling how fast tickets will sell out!
Fans can look forward to Grupo Frontera's signature high-energy sets, incredible vocals, remarkable musicianship, and more on this upcoming fall tour. It's hard to believe that the band was recently performing covers and only uploading performances on Youtube. Now, they are packing stadiums, arenas, and major venues across the U.S. The setlist is highly likely to feature all the staples, including "Bebe Dame," "Que Vuelvas," "No Se Va," "Estos Celos," and "Di Que Si."
Founded by members Adeliado Solis II "Payo," Julian Pena Jr., Carlos Zamora, Carlos Guerrero, and Alberto Acosta, Groupo Frontera emerged in 2019 from Edinburg, Texas. The band initially performed only for family and friends. They also performed covers and uploaded their performances on Youtube and Tiktok. In 2019, they uploaded a cover of Morat's "No Se Va," which quickly became viral on social media. The video has amassed approximately half a billion views. Since then, the band's newfound fame led to studio recording sessions. This summer, the band released their debut album, El Comienzo, which peaked at number 33 on the Billboard 200 and number 4 on the Top Latin Albums chart. The album features several hit singles, including "No Se Va," "Que Vuelvas," and "Un x100to." The album featured several guest performances from renowned Latin artists, such as Carin Leon, Bad Buddy, Grupo Firme, and more. Last year, Grupo Frontera collaborated with the popular American-Mexican band Fuerza Regida for the single "Bebe Dame." The song topped the Billboard Hot Latin Songs chart and peaked at number 25 on the Billboard Hot 100. Since releasing the song, the music video on Youtube has clocked in over 200 million views.
Catch the hottest Latin band this 2023 by securing tickets to see Grupo Frontera at the Adler Theatre on Saturday, 21st October 2023!