Adler Theatre | Davenport, Iowa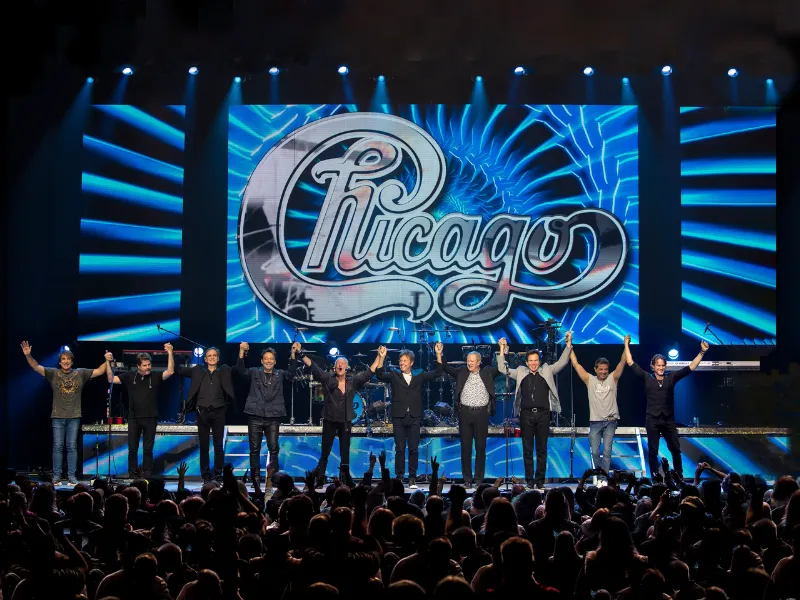 After more than half a century, these guys are still a Hard Habit To Break! Chicago is back to prove that old-school soft rock is not dead at the Adler Theater on Tuesday, May 28th! This upcoming performance celebrates the band's 57th consecutive year of touring, and what better way to spend this milestone than singing along to beloved rock/jazz hits like "If You Leave Me Now," "Hard To Say I'm Sorry," and everyone's favorite ballad "You're The Inspiration." As one of the best-selling and longest-running groups in history, Chicago will forever be praised as the highest-charting American band in Billboard's Hot 100 All-Time Top Artists! Watch these legends live at the renowned Davenport stage and be swept away by the nostalgia from back-to-back radio hits! Beginnings are just a ticket away and with a career like theirs, your purchase is worth every penny! Secure your front-row seats by clicking the "Get Tickets" link above right now!
Chicago - The Band will be just up the road at the Adler Theatre on Tuesday, May 28th! Following a standout residency at the Venetian Theatre in Las Vegas ending in March, Chicago will kick off their Midwestern summer 2024 tour, with additional performances scheduled in nearby Waukee and Champaign.
The 56-year-old rock band, Chicago, is the first-ever American band to chart a Top-40 album in six consecutive decades with a total of forty-seven combined gold and platinum singles. So far, they've released an impressive 38 studio albums, with the most recent, Born For This Moment, released just last 2022. In 2020, they were honored with a Grammy Lifetime Achievement Award, recognizing their evident long-standing contribution to music.
Founding members Lee Loughnane, James Pankow, and Robert Lamm continue to tour with the band, with a supporting cast that comprises touring members who have joined over the last few decades. These additional members include Ray Herrmann on Saxophones, Walfredo Reyes on Drums, Neil Donell on Vocals, Ramon "Ray" Yslas on Percussion, Tony Obrohta on Guitar, Loren Gold on Keyboard, and Eric Baines on Bass.
Furthermore, Chicago is a band with an arsenal of hits so vast, that they could effortlessly craft an entire concert setlist with songs you're bound to know every word to. For the past years, their average setlist contains songs from their extensive discography which include (but are not limited to) the following:
CHICAGO SETLIST
Anybody Really Know What Time It Is?
Saturday In The Park
Beginnings
Happy Man
(I've Been) Searchin' So Long
Street Player
Old Days
Free
Just You 'N' Me
Feelin' Stronger Every Day
If You Leave Me Now
Hard To Say I'm Sorry
Look Away
Wake Up Sunshine
Hard Habit To Break
Baby, What A Big Surprise
Another Rainy Day In New York City
Call On Me
I'm A Man
You're The Inspiration
"But at their best, the 11 members of Chicago are great showmen, especially the energetic and ever-youthful founding members. Pankow and Loughnane moved dynamically around the stage with their horns, performing a kind of choreographed ballet," The Daily Gazette shares.
The Adler Theatre is certainly the top auditorium in Davenport, Iowa, perfect for hosting the event with its up-to-date cinema equipment and overall historic charm. It is only fitting that the iconic band will be playing in a venue that matches their storied legacy! Save the date on May 28th and purchase your tickets to Chicago - The Band LIVE today!